Complete flooring solutions for Memphis TN and the Tri-state area.
Floor essence specializes in finding the floor care solution to fit your business needs and budget. In addition to our Flagship product, the Neverstrip System, we have a full range of traditional products for any hard flooring material. Our professional highly trained technicians provide full service commercial and residential floor covering products, for homes and commercial facilities.
We pride ourselves on providing quality craftsmanship, attention to detail, and personalized attention to your floor maintenance needs. We are not your average floor covering company, we care about your company as if it was our own, and this sets us apart from our competition. We consider it a privilege to serve your needs and appreciate being considered as one of your vendors.
Floor Essence serves Memphis, TN and the Tri-state area
Our home is in Memphis and we are proud to be able to offer the most complete flooring solutions in the Tri-state area. In addition to traditional floor coverings we offer an extremely low maintenance solution for institutional and facility managers that reduces waste, labor, and the expense associated with maintaining large expanses of flooring.
Antibacterial and anti-graffiti floor finishes.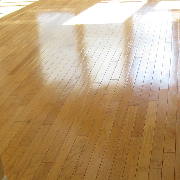 For facilities that require a high degree of sanitation such as hospitals, animal clinics and health clinics we can put an additive into the finish that has antibacterial properties. This additive constantly fights bacterial growth, and solves the issue of organic waste.
Whether your property is residential or commercial, graffiti can become a problem.
A reoccurring issue with many facilities is the emergence of graffiti. Our exclusive Neverstrip coatings can be used on vertical surfaces to impart a graffiti resistant finish to the material. Available for interior and exterior surfaces, this product makes graffiti cleanup a matter of simply washing it away with soap and water.
Non slip floor finishes
The average commercial flooring slip coefficient is .35, .15 below the accepted standard. We offer a coating that can double the slip coefficient to .94 when dry or to .74 even when wet.