Neverstrip Flooring Systems
Save 70% off the cost of maintaining any kind of flooring systems with our exclusive Neverstrip finishes. Floor Essence Inc, 901-258-6484
Neverstrip finishes were designed as an environmentally friendly, low maintenance finish for all types of flooring. Neverstrip produces a multitude of sheens, from high gloss to matte, and is a durable finish that holds its shine for years with minimal maintenance. Weekly maintenance is reduced to daily sweeping and mopping 2 times a week. The Neverstrip finish never loses its luster, never needs buffing or polishing, and never needs to be stripped.
How much money can Neverstrip save?
use our handy calculator to find out.
NEVERSTRIP IS GREEN TECHNOLOGY

Neverstrip flooring systems can be used on any flooring surface to seal and protect the flooring material. It does not fade or wear off in high traffic areas, and keeps its shine like new for years. Neverstrip allows you to change the color of any tile surface; so old, dated looking floors can be updated without removal or replacement, reducing the waste that goes into our landfills. Maintaining a Neverstrip floor requires less chemicals to clean, which reduces the waste products produced from the process by up 60% to 70 %, with a similar reduction in labor costs needed to perform this service.
Easily beating all of the most stringent specifications as laid out by the USGBC and their LEED programs, including their GreenSeal specification, you can be Green at application, and hugely Greener on an ongoing basis because of the simplified, less polluting, and less wasteful long recoat cycles of the Neverstrip coatings
Change your flooring when you change your decor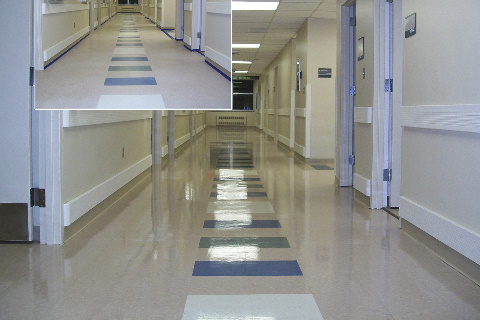 Neverstrip systems allows for complete freedom when updating any hard flooring surface. Old tile can be changed to another color and look like a brand new tile installation. The decorative options are endless. With the innovative Neverstrip product we can apply a sports team emblem, a customer logo, or any unique symbol into the floor for those special situations when you want a truly custom floor.
All with a finish that never needs buffing or polishing, ever.
Neverstrip is available in a variety of colors and glosses to suit any need or application, from very high gloss with a blazing shine, to a matte finish for areas where high gloss is not desirable. Neverstrip can be used in any flooring environment, and on any hard flooring material, including hardwood flooring.
Graffiti resistant too...
The Neverstrip finish is perfect for graffiti prone surfaces. Graffiti can be cleaned off the finish with soap and water, leaving no trace of the paint at all.


Antibacterial properties for hospitals, clinics, and veterinarians
The Neverstrip system even has a additive that can be added to the finish that actively kills bacteria, making it perfect for institutions that must maintain a high level of cleanliness.
How much money can Neverstrip save?
use our handy calculator to find out.